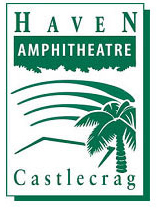 Toad, Ratty, Badger and Mr Mole with their friends and enemies came to life at the Haven Amphitheatre in March for eight performances of the classic Kenneth Grahame adventure story for families. Once again the Haven Management Committee has had a successful collaboration with Julie Mackay and the RAW-EM theatre company,(our last being A Mid Summers Nights Dream at the same time last year). This time the weather was much kinder and we only lost one performance due to rain.
Wind in the Willows has been our most successful production in reticent times and some of the comments the show received are:
'The Haven Amphitheatre is an experience in itself. Even the drive down by the mandatory shuttle-bus was informative with the Haven bus driver telling some thing of the heritage of the area and the venue….
The show was introduced by the out internationally acclaimed violinist Alla Sharova (a temporary resident in Castlecrag) who generously gave a few impromptu lessons to the young audience in the front row. Alla then went on to carry the evening musically. Brett Neville gave us the legally blind and befuddled Badger, Michael Terry was a dastardly, wily chief Weasel while Olivia Solomon's, as with Pearson and Macaulay, amply pulled off multi-able roles, including Chief Stoat and the ditzy, impressionable gaoler Phoebe. But there was no denying the star turn, the stylishly-named Blair Cutting, who, while sounding like a matinee idol, looked every bit a toad and relished every line.' (Australian Stage Online)
There were many other comments from appreciative audience members, including emails and phone calls.
As to what's next?
In September we will be playing our part in Willoughby council's Spring Festival and towards the end of November The Haven will presenting a production of the Charles Dickens' A Christmas Carol.
Images from Wind in the Willows