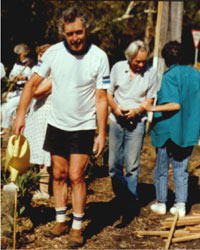 The journalist and television producer John Crew will be most remembered by Castlecrag residents as its serving representative on Willoughby Council during the heady days of the anti-expressway campaign in the 1970s.
After arriving in Castlecrag in 1956 John and his wife Laura immediately fell in love with the place and stayed until his retirement in 1986. The family was raised here, vegetables were grown in the back yard and everyone enjoyed the rock, the bush and Middle Harbour. They only moved from Castlecrag after they had found an equally magnificent spot on the south coast, in Bermagui, for their retirement. There they stayed fit and well until John had an unfortunate fall while getting onto his pushbike on 27 December 2007 that resulted in a slow bleed on the brain. This caused him to fall into a coma that night, from which he didn't recover, dying three days later.
In the 1970s John was incensed by the state government's renewed attempts to push forward with the opening of the proposed expressway corridor across the Castlecrag peninsula. John joined the committee formed by the Progress Association in early 1974 to lobby against the challenge of the Warringah Expressway and soon assumed a prominent role in its affairs. With his journalist background he was cajoled into standing for local council on an environmental platform and he was elected to represent the Middle Harbour Ward in September 1974. His period on Council coincided with a period of community activism stimulated by the expressway threat. Following the election of the Wran Government in May 1976 and its decision to fulfil its election pledge to abandon the Warringah Expressway extension to Seaforth, John announced that he would not contest the 1977 Council elections. He remained active in the anti-expressway committee, however, and played a key role in the decision of the Wran Government to launch the Commission of Inquiry into the Warringah Transport Corridor headed by Mr DS Kirby.
John Crew held strong environmental and social justice principles and here in Castlecrag he made a significant contribution to protect and preserve the natural suburb we all love. He was a much loved husband, father and community member. He is survived by his wife Laura and children Mark, Ross, Christopher and Lara, and six grandchildren. A precis of John Crew's life can be found in the obituaries of the Sydney Morning Herald dated 9 January 2008.
[On the Internet, get: http://newsstore.smh.com.au/apps/newsSearch.ac?/
then type in Search Items 'John Crew' and selected the appropriate time frame back to 9 January 2008 and click the 'search' button. A payment is required for accessing the archives.]
Mark Crew