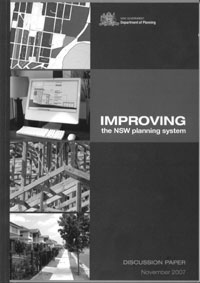 NSW Minister for Planning, The Hon. Frank Sartor, has released a Discussion Paper (title above) sketching proposed 'reforms' to the NSW planning system at State and Local levels. It has enthusiastic support from the Coalition for Planning Reform, an alliance of 14 major development industry and planning organisations. However the 152 Councils of the Local Government Association and the Shires Association, community groups and individuals have grave reservations and suspicions.
The Castlecrag Progress Association has long argued for more consistent and simple criteria for decision–making in planning and development proposals, but shares LGA's concerns. Specifically, all local progress associations are joining LGA's call for a proper consultation period, aiming to settle non-contentious reforms by July and the rest by December.
This article spans the 142 page proposal and its impacts on Castlecrag residents, homes and amenity. Our planning cub-committee has researched a Special Report for consideration by the committee and submission to NSW Planning. Issues include:
Aims for the Planning system: The Paper seeks to encourage more sustainable developments, to be transparent and accountable; to ensure the economic use of resources and time; to achieve consistency and simplicity with clear agreed systems for decision-making; and to ensure an equal and fair approach to all decisions for all participants. These generalities are unexceptionable; it is the proposed methods that are causing concern.
Plan-making: Three levels of 'Environmental Planning Instruments', State, regional and local government, govern land use and economic development in NSW. Their effectiveness depends on consistency between the different levels, the quality of the plans, their clarity for ease of use and the effectiveness of their application 'on the ground'. Your Progress Association supports the principle that planning instruments and development controls need to be clear and definitive; that we residents need to know what we are permitted to do—and what developers are permitted to do. We also believe that effective plan-making requires high levels of community participation, as it is a prime object of the Environmental Protection & Assessment Act: 'to provide increased opportunity for public involvement and participation in environmental planning and assessment'. The Paper is not clear as to whether future plan-making would require public consultation, or whether a Council would be able to amend the Planning Department's standard template LEP to address the special needs of a local area.
Development assessment and review:The Paper aims to move to a 'tailored assessment system' that depends on the scale, risk and complexity of local environmental plans and development projects. Developments for single dwellings and alterations less than $1 million are deemed 'minor'. Criteria for 'exempt' and 'complying' development would be revised to 'achieve fast and simple approvals for single dwellings and other minor developments and to take volume out of the assessment system' in order to increase the proportion of DA's in these categories from 10 per cent to 50 per cent within four years. Where a DA is assessed to be fully 'complying' with the applicable code, a certifier (council or private) may approve the development. A courtesy note is proposed to notify affected neighbours and there would be no right of appeal for complying development. New procedures are set out for 'minor non-compliance', but a full DA to Council would be required where a DA does not comply with relevant codes. First-level appeal would be to a 'planning arbitrator' for a non-legal informal review. Only then could a further appeal go to the Court. A list of approved 'planning arbitrators' would be established by the Department and Councils.
The Progress Association supports clearer development controls that reduce non-complying DAs. However, the special circumstances of particular sites must be recognised and addressed. With its diverse topography, scenic and bushland areas and important Conservation Area, Castlecrag requires a more flexible approach to the treatment of DAs (both residential and commercial) to allow innovative solutions to development in our special geographic and social environment.
Private Certifiers: The role of private certifiers in the planning system remains controversial. The Paper proposes addressing perceived and actual conflicts of interest by strengthening the registration and auditing of private certifiers and broadened and mandatory training for certifiers. A key issue is whether private certification is an accountable and transparent system of accreditation, compared with the present system of elected Councillors making these decisions after consulting the community.
Please read the Discussion Paper at http://www.planning.nsw.gov.au/planning_reforms and a Commentary by the Environmental Defender's Office (a not-for-profit legal centre specializing in public interest environmental law) at http://www.edo.org.au:80/edonsw/site/papers/planning_reforms071210.php
Bruce Wilson