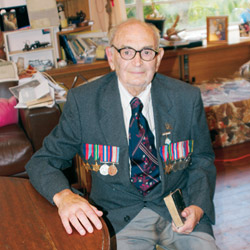 Castlecrag mourns Battlement resident of 56 years, Neville Milston. Some 120 friends celebrated his life on 25 July, addressed by colleagues from the North Shore Temple Emmanuel, The Jewish Ex-Servicemen's Association and the Masonic Lodge of Tranquility.
Born 1920 in Leichhardt, then growing up in Coogee, Neville had to leave school at 14 during the Depression to help in his parents' gifts business. In 1938 he enlisted in the Citizens Military Forces at 18 as Hitler entered Czechoslovakia and he joined the AIF in 1941, became a radio operator and was shipped out to Malaya. His 8th Division Signals were ordered to join a British military post, but all had to surrender, and were imprisoned in infamous Changi.
Neville then spent 42 months building the 450km Burma Railway, working from 5am to 6pm on starvation rations and dropping from 60kg to a life-threatening 40kg. More than one-third of his comrades died. Liberated in August 1945 he needed extensive rehabilitation before returning to civilian life, and was awarded the Efficiency Medal. [For recollections see www.ajn.com.au April 2007]
In 1949 he met Madge Grouse, a Jewish ex-servicewoman who had seen duty in New Guinea. They married and moved to Castlecrag in 1951 ready to start living life to the full for their next 50 years together. Their three children – Michael, Richard and Leah (and two foster children) – and "their" suburb absorbed them.
Helping build the Infants School, raising of funds for the Walter Burley Griffin Fountain, the Castlecrag Conservation Society and the annual Red Cross Appeal, working for Meals-On-Wheels and other charitable and community endeavours were all part of community involvement. And in 1981 Neville completed a Bachelor of Arts degree: "to get the education I missed out when I was young", he said.
His three loves outside the family were the Australian Labor Party (he was awarded the McKell Award in 2003 for long and distinguished service), the Masonic Lodge, and Liberal Judaism. It appears that his continued active involvement in such community groups was an important ingredient in his physical and mental longevity…… perhaps a lesson for us all.
He was active to his last day, often seen at the local shops, never mentioning his own ill-health, and always a kind word and empathy for others' concerns. He passed away in his sleep. We shall miss his great contribution to our community. Shalom Neville.
Bruce Wilson