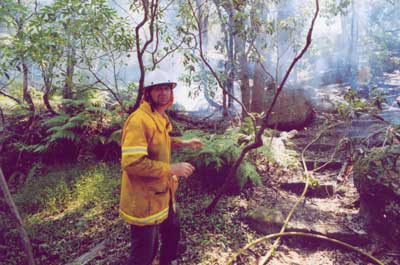 Willoughby City Council has been at the forefront in developing a systematic fire hazard reduction program for its extensive bushland areas, with particular attention to the interface between residential areas and bushland. The fire hazard reduction program seeks to reduce the intensity of fire fronts within 30-50 metres of properties.
Bushland areas are prepared for ecological burns according to the time since the last burn, the historical record of vegetation types within the area, evidence of reduced floral diversity and the emergence of dominant species (eg, Allocasuarinaspp.), the declining health of the flora (senescing) and the presence of species that rely on fire for regeneration.
In Castlecrag, a large ecological burn was carried out on the Northern Escarpment in September 2005, while smaller burns have recently been carried out in Oriel Reserve and the Linden Way reserve.