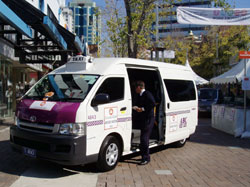 Willoughby Mayor Pat Reilly rode on an electrically powered bicycle to officially open the Smart Transport Show in the Chatswood Mall at 11am on 19 May. Held over two days (19-20 May), it showcased sustainable transport modes that benefit both the environment and people's health. On show were alternative fuel cars, fuel-efficient vehicles, scooters, solar powered cars and bicycles. New Transport Access Guides promote walking and the use of public transport to get to the Chatswood Shopping Precinct, Willoughby Leisure Centre and Willoughby Park were launched at the Show. The private initiative, CarShare, which enables residents of high-density areas to use public transport and book the use of a shared car when required was one of the popular stalls at the show.
Mayor Pat Reilly also officially launched the CouncilCab service at the Smart Transport Show. He said the service "is part of Council's commitment to sustainable transport and the initiative is the first of its type and scope in New South Wales." The new service, which has been developed in consultation with representatives of the Taxi Council and Combined Communications Network (the owners of ABC Taxis), will see Council hire taxis on a fixed hourly rate and make them available on a multiple user basis at a subsidised rate. Under the scheme, which is being trialled for 12-months, residents can pre-book transport 'from anywhere to anywhere' within the boundaries of Willoughby City at a flat rate of $4 per trip. The service is currently available between 10am and 4pm on week-days.
Residents wishing to make a journey within Willoughby City need to make bookings prior to 4pm the previous day of travel, they will be given a 30-minute 'pick up window' and will pay for their journey by giving the driver a pre-paid voucher. Vouchers are sold in books of five for $20 and are available from the driver, the Customer Service Centre on Level 4 of the City Council offices and the Dougherty Centre. To book a CouncilCab, phone 8332 8338 by 4pm the DAY BEFORE you wish to travel. Bookings are open on a 24-hour basis. If you want more information about CouncilCab, please ring 9777 1000 during business hours.
Bob McKillop