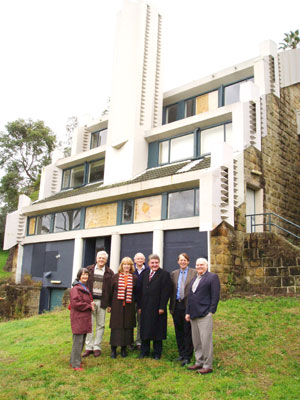 Willoughby City Council has announced bold steps to restore the Griffin-designed Willoughby Incinerator and to return it to community use. It has made a successful application for a $454,545 grant for conservation works under the Federal Government's National Heritage Initiative Grant Programme administered by the Department of Environment & Heritage.
The grant will contribute to the conservation of the chimney, together with work to rectify drainage and rising damp problems (see The Crag, No. 159). The total cost of the restoration has been calculated at $1.3 million with Willoughby City Council funding the remaining $848,455. In announcing this commitment and Council's action to terminate the existing lease of the building, Mayor Pat Reilly expressed his pleasure that this significant heritage item can be returned to the community for its use and enjoyment. He continued: "The restoration of the Willoughby Incinerator provides Willoughby City with a unique opportunity to create a public amenity that not only satisfies a demand in the community but provides an opportunity to make a significant heritage item accessible to all."
While the work is carried out, Council officers will undertake further investigations into possible future tenants for the building and report back to Council. Cr Reilly met with representatives of the Castlecrag Progress Association and the Walter Burley Griffin Society at the Incinerator on 30 June for a media information activity and discussion on options for the future use of the building. Options canvassed included a Council event/function space, permanent display promoting the Griffins' works in Willoughby, rooms for meetings and presentations, and a café for visitors to the Incinerator and adjacent attractions in the Bicentennial Reserve.
This is a most pleasing outcome of negotiations that have gone on for some time over the future use of this building and the Castlecrag Progress Association expresses its appreciation to our Ward Councillors and to the Council officers who have worked most diligently to achieve this. We will provide you with further updates on this important project as information comes to hand.
Editors/Samantha Taranto, WCC