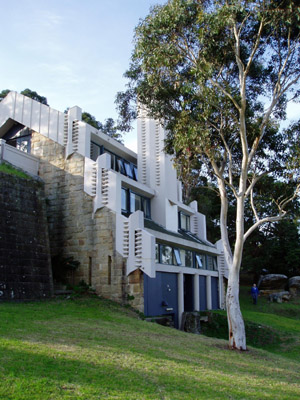 Councillor Adrian Cox provided residents with an update on the status of the former Willoughby Incinerator building at the February General Meeting of the Progress Association. The building has been vacant for several years and its future has been the subject of ongoing negotiations between Council and the mortgagee in possession.
Cr Cox said that a likely outcome is that the lease will revert to Council, which will then be responsible for carrying out significant restoration works. This action has been covered in Council's Property Management Plan, which gives the long-term future of the building as a 'public use option with future recommendation of the Cultural Facilities Plan.' The meeting was advised that Council proposes to apply for a Place of Public Entertainment licence that would allow its use for a café, art gallery, an art workshop or similar purposes.
Many regard the building as Willoughby's most important heritage asset and it has been widely featured in promotional material. The building was designed by Walter Burley Griffin and Eric Nicholls in 1933 and constructed by the Reverberatory Incinerator & Engineering Company for Willoughby Council.
Following its closure, Colin and Garry Dilworth obtained a 50-year lease of the building in 1979 and converted it to a restaurant. This closed in 1988 and the building was converted into commercial offices. The building was severely damaged by fire in late 1996. After a further resale of the lease, the fire damage was restored and the building was again sub-let as a commercial office, but the building has been vacant for the past three years.
The Progress Association is most appreciative of the efforts by Council to achieve a satisfactory outcome for the future of this iconic building and it looks forward to its use for functions that will a wider public appreciation and use of its facilities.
Editors