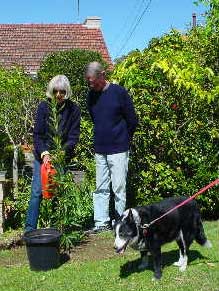 On Sunday 18 September, approximately 40 residents gathered at the Stoker Playground on Edinburgh Road, for the Inauguration of the Edinburgh Road Tree Planting program, as well as the official opening of the refurbished Stoker Playground.
The Progress Association put forward the tree planting program to Council as a Centenary of Federation project in 2001. We envisaged a project that would improve the presentation of Edinburgh Road with a fine avenue of locally indigenous trees.
For the ceremony, 13 Banksias, of a planned 100 trees, were planted along the southern side of Edinburgh Road. In addition to being a local species, this tree has been chosen for its relative ease of pruning around electrical wires. A number of long-standing residents participated in the event.
The Mayor of Willoughby Pat Reilly and Mrs Reilly were present for the planting and the opening of Stoker Playground, as two of Phyllis and Michael Stoker's children, Annette and Kathy spoke of their parents' contribution to the Castlecrag Community. Michael Stoker moved to Castlecrag in 1935 at the invitation of the Griffins and was active in local theatre group activities. He and Phyl returned to 'The Crag' in 1942 and established a registered child-minding centre, which expanded to become the Castlecrag Kinder-garten. Several of those present had attended that centre.
The Stoker Playground upgrade is one of many planned open space refurbishments in the City of Willoughby. As Mayor Reilly highlighted, the design and fit-out of Stoker Playground is very much in keeping with, and complementary to, the unique character of Castlecrag.
The playground is once again enjoying much use from families. For those who visit the playground, have a look at the rubber mat surrounding the castle. (The mat is made in the shape of the Castlecrag Peninsula!)
Jennifer Kos