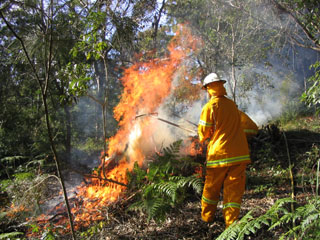 NSW Fire Brigades and Willoughby City Council's Bushfire Crew successfully completed a hazard reduction burn in bushland on the Castlecrag Northern Escarpment near Sunnyside Crescent on 28 and 29 July.
The aims of the burn were to provide protection to surrounding properties in the event of a future wildfire and to maintain diversity of native plant species. Considerable planning and preparation was required by Willoughby City Council's Bushfire Crew to ensure effective bushfire management. The crew developed a detailed burn plan of the area that included conservation of cultural heritage sites, bushland vegetation and wildlife habitat and property protection.
The burn area was prepared by cutting down standing vegetation and leaving it to season for a year before burning. This helps ensure that a hot burn is achieved to assist the regeneration of plant species. The preparation also reduces available fire fuel over the area and the burn can be conducted safely. This burn preparation technique also minimises air pollution and reduces the amount of water needed to manage the burn.
The crew had to await ideal weather conditions on 28 and 29 July this year to carry out the burn, which was most successful. The burn area will continue to be maintained by Willoughby City Council staff to ensure weeds are controlled. The public can assist the native plant regeneration throughout the burn area by sticking to the paths to enable plants to regenerate and to reduce erosion. A successful pile burn was carried out in Casement Reserve on 13 September also.
Keep a close watch on this area, as the regeneration occurs over the next year. An abundance of beautiful native wildlife flowers is expected to flourish on the site. If you require further information on how to protect your house during the fire season, please contact Willoughby Council on 9777 1000.
Rebecca Hill, WCC