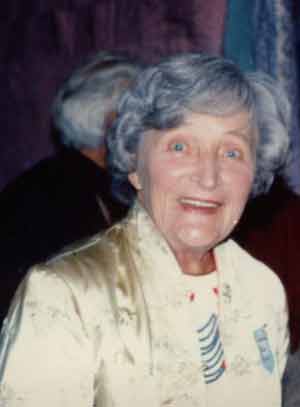 Marguerite (Rita) Elizabeth Kaye:
1917-2003
Marguerite Elizabeth Kaye, who has died aged 86, was a resident of Castlecrag for nearly 60 years and a former editor of The Crag. She is survived by her husband, Eric, her daughter, Barbara, four grandchildren and six great-grandchildren.
Marguerite, affectionately known as Rita, was born at home in Paddington on 3 July 1917. She was one of six children of Fred and Ethel Miller, and their only girl. After living in various houses in Sydney's east, Rita's family moved to Northbridge. Rita attended a youth fellowship group at St Mark's church in Northbridge. She regularly attended the local movie theatre (near to the current Woolworths) on a Saturday. On one Saturday, Rita noticed a fine looking gentleman in the theatre queue and determined that they should meet. You will not be surprised to learn that Eric Kaye was oblivious to all but the newsreels and movies that he had gone to view. In stark contrast to the times, Rita brashly invited Eric to accompany her to a dance of the youth fellowship group and the rest, as they say, is history. Rita and Eric were married on 21 February 1942.
Rita and Eric always had a great love for the outdoors and their honeymoon was spent bushwalking from Bungonia down the Grose Valley to the Kangaroo Valley, including passing through the Blue Gum Forest, later photographed by another former resident of Castlecrag, Max Dupain. After they were married Rita and Eric moved from their family homes into "Wee Jean", a shack at the end of the Castlecrag peninsula. In 1945 and 1947, they had two lovely young girls – Barbara and Margaret.
In 1948, Rita and Eric had almost saved enough for a deposit on a block of land further up the hill. They bargained the owner down and purchased 325 Edinburgh Road, an address that would remain theirs for more than 50 years.
In this post-war period materials were in short supply so the construction of their family home took a number of years. Rita was actively involved in the building and often told of her pride in the walls she had plastered. Many, many wonderful memories were created at 325 Edinburgh Road.
It is not hard to understand why Rita and Eric were attracted to Castlecrag. However, Rita and Eric did not merely adopt this suburb, they adopted the entire community. Rita became a voluntary librarian at the Community Library. Rita and Eric were members of the Castlecrag Progress Association for more than 50 years. Among the many tasks she undertook, Rita worked tirelessly to raise funds for community projects such as building the Castlecrag Kindergarten. Rita and Eric participated in numerous community campaigns opposed to the construction of the proposed Warringah Freeway which would have devastated their suburb. As we know, this was ultimately successful. Rita took on the role of Editor of The Crag for many years.
Another role in which Rita took immense personal pride was in the regeneration of Castlecrag's bush. She participated in various groups, including one led by Beverley Blacklock and, more recently, WEPA's Bush Regeneration team working in the Sugarloaf Catchment Creek.
Rita made many, many friends in Castlecrag, who will sadly miss her and fondly remember her.
There are some who pass this way and it is difficult to recall what, if any, impact they have made for doing so. Rita was not one of them. The contribution which she made during her life – to her family, her community and to her husband – is substantial and lasting.