Willoughby Municipal Council celebrated its centenary in 1965 and in Castlecrag we decided to mark that occasion by erecting a memorial to the creator of our suburb, Walter Burley Griffin. A proposal was put forward by the Castlecrag Community Centre Committee and Bim Hilder was asked to design an appropriate sculpture. It was thought that it would be best placed on the island which used to exist at the corner of The Postern and Edinburgh Road but on the recommendation of Edmond Harvey, a most talented local artist, the island at the corner of The Sortie Port and Edinburgh Road was substituted. So, Bim got on with his creation of a magnificent water sculpture made of copper and based on a tetrahedral motif and the community set about raising money to fund the enterprise. Which it did, in no time at all, and by over four hundred pounds!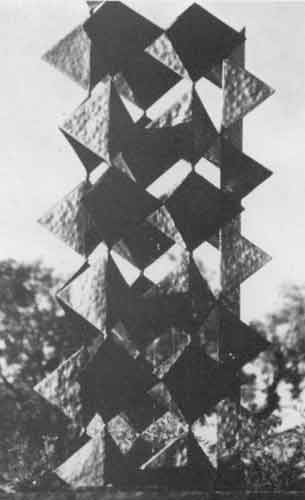 The fountain was unveiled by the Mayor, Alderman Laurie McGinty on Centenary Day, 23 October 1965 to the great pleasure of the many residents who attended. He planted a tree nearby to further record the occasion, trees were planted at the shopping centre, some Griffin houses were opened for inspection and a demonstration of the design and construction of Knitlock tiles was held in the school grounds. Time has passed and the pumping, drainage and electrical systems of the fountain are in serious need of upgrading. The fountain is classified as a heritage item and Council, despite attempts to get the fountain operational again, has decided that the best way to keep it functioning into the future is to completely upgrade its hydraulic and electronic items with current technology. It has estimated the cost of restoration to be in the vicinity of $50,000. Funds to do this are not available in Council's current annual budget but it is giving some thought to seeking funding from heritage bodies. It would be wonderful if the Castlecrag community were again to come together to assist in the financing of the fountain's restoration. The fountain is a remarkable and significant item in our suburb and its preservation is important for the man it honours and for the generations to come.
James Smallhorn, from Willoughby City Council's Open Space Branch, has prepared a Walter Burley Griffin Memorial Fountain Heritage Statement and will be the guest speaker at our general meeting on 25 August. He will talk about the fountain and answer question's on its history and the re-financing of its restoration. We look forward to meeting you.