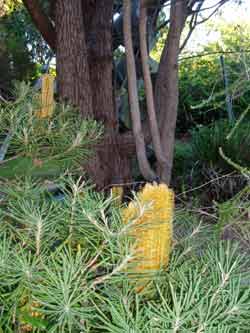 In April 1998 Willoughby City Council established the Griffin Reserves Advisory Committee and its members consist of residents of Castlecrag, the Councillors of our Ward and Council staff. Its functions are to review the current Plan of Management for the Griffin Reserves in Castlecrag as it relates to the ongoing implementation, development, work and management of these areas and to advise on aspects of the use, control management of Griffin Reserves for consideration by Council. Its duties include monitoring and advising Council on the health and condition of bushland in the reserves and encouraging the visitation, promotion and enhancement of the natural and built features of the Griffin Reserves.
Much work has in the Reserves and Islands has been overseen by this committee since 1998. The work has been done using bush regeneration contractors and in some reserves working with residents. It is funded by Council. The nature of the work is necessarily slow and it will be some years before Griffin's entire system of inter-related Walkways and Reserves is again able to be used safely. Regeneration and planting in The Buttress Reserve, below The Tower Reserve, has been underway for some time, but last week the contractor arrived to start work and was horrified to discover that vandals had ripped out plants and slashed or destroyed trees. All her efforts to restore the natural vegetation of this reserve had been made null and void.
Griffin's vision for Castlecrag was one in which the natural landscape, not the built form was the dominant feature. The Plan of Management seeks to re-establish this vision and it is a matter of deep disappointment that some would seek to destroy this. Let us hope that The Buttress, after further regeneration work, and as the other Reserves are demonstrating, will become the place of natural loveliness it was planned to be.
Elizabeth Lander