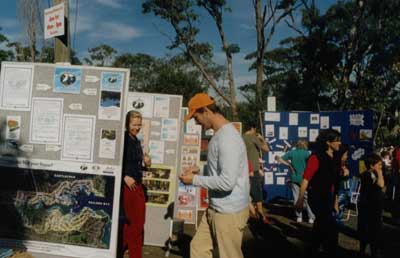 The 2003 Castlecrag Community Fair on 1 June was an outstanding success. Fine weather brought large crowds and the event served its purpose of bringing our community together. Once again, our mayor, Pat Reilly, officially opened the Fair and met with many of those attending.
All our community groups in The Crag conducted stalls or activities at the Fair and Willoughby Council was well represented with a range of education displays. There was a range of items on sale and all the community groups reported good support for their activities.
The Association extends a big thank you to Kathy Rosenmeyer and her helpers at the Trash and Treasure stall. We are indebted to all those who helped make this such a success. Thanks are also extended to the businesses which participated in the Fair and helped to make it a wonderful day for our community: Castlecrag Newsagent, Shamrock Meats, Rodney Clark, Castlecrag Florist, Castlecrag Quality Meats, Castlecrag Fruiterers, Momo Interiors, Castlecrag Pharmacy, Galleria, Mia, Travelplan Australia, Lunch, Clipso, Christina's Restaurant, The Professionals, LJ Hooker, PRD Nationwide, Richardson & Wrench, Treats & Temptations, Flavours of Peking, Source and Castlecrag Cellars. With this generous assistance, we covered the cost of staging the Fair and there was a small surplus.